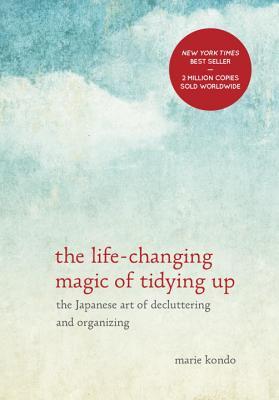 Marie Kondo, the Life-Changing Magic of Tidying Up (Japanese 2011, English 2014)
Oh my, how conflicted I am about this book!
I have no previous allergies to Japanese quirks, a mix between cute, weird, naive, formal and efficient. I like self-help books and organizing books when they inspire you and cheer you up. I should be an ideal convert to the Konmari method. Like millions of people around the world, apparently.
But this… How this book has managed to make it to the New York Times bestsellers list is beyond my comprehension. Sure, the idea of minimalism is selling like hot cakes these days, and apparently it helps when the one who tells you to do it is a smiling, foreign young woman. As if there was a secret recipe. As if there was a magic trick.
But Marie Kondo soon tells it herself: there's not one single method, you just have to follow your heart and fill trash bags. If you don't know what to keep, throw everything out, your heart will tell you what it misses most. A few good ideas are packaged with the weirdest recommendations (balancing them out in my mind, if not cancelling them completely), thrown together with enough episodes of the writer's memoir to convince you that she suffers of OCD.
To reach an actual book length, things are rehashed ad nauseam, otherwise the gist of her ideas would easily get into a leaflet. The promotional information you get here and there are actually a good synthesis and saves you from the weirdest parts of the book: the pages where Marie Kondo recommends that you speak to your purse and furniture, that you thank your objects before throwing them away, and to have a little thought for the plight of your socks. I'm too much of a rational Western girl here, she entirely lost me at this point.
Halfway through I figured the writer was so completely crazy that it was a comic book rather than an organizing method. There are unintended hilarious passages, especially as she takes herself so seriously (the people who have followed her cult method have a glow and everything goes well in their lives, she says). And I certainly didn't wait long before applying her own method to this book, that I resold as soon as I'd finished the last page.
On one hand, the book made me cringe, because it seems that her method is only suitable for single people who have a lot of time on their hand. On the other hand, her method is surely appealing, because it doesn't need much for you to start: does this object spark any joy? Yes, it stays, no, it goes. No need for complex strategies to build a capsule wardrobe or a perfect system. Still I would have liked it better if she'd talked about recycling and reselling instead of throwing all away and being proud of a number of trash bags.