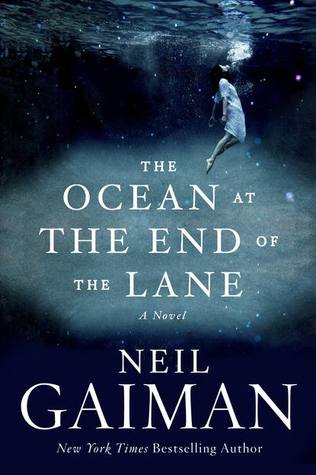 Neil Gaiman, The Ocean at the End of the Lane (2013)
I was told several times by fellow friendly bloggers and commentators that I should try Neil Gaiman, and my best guess is that Emily recommended him to me first. It took me ages to listen, because he's not really well-known in France and the only name that he's known for is the movie Coraline which I wrongly pegged as another version of The nightmare before Christmas. I can almost see you shake your head in disbelief, but I must blame either a very wrong timing or a very wrong marketing campaign for this old mistake.
Anyway, I stumbled upon this book at the library and the detail that made me try it is that it won an adult literary prize. I wasn't particularly in the mood for a YA, but I'd say some magical realism would make this fall more alluring. I was in for a wild and  fast ride! I literally fell into the book and couldn't let it go.
The voice was really what kept me in: that of an adult looking back at his own self as a 7-year-old child with wide-opened eyes, nothing rosy or nostalgic. It reminded me of the little girl from A.S. Byatt's Ragnarok who read about myths larger than life to understand her troubled daily life during WWII. Here the hero's daily life is grim and tragic, but soon turns into a horror larger than life too. The boy's parents take a lodger who kills the boy's cat upon arrival, and soon after commits suicide. The boy looks up at his parents and the adults around him but soon discovers how powerless they really are, how frail and messed up they can be, even those who have magical powers like the Hempstock women who live in the farm next door.
I loved how Gaiman puts magic and dark powers lurking beneath the daily routine as if they were entirely normal. As a 7-year-old, many things are a given, unexplained and unquestioned. As readers we are treated the same; we may read the story as a fantasy tale but also as a realist story misunderstood and distorted by the fantasy books that the boy read and by the bad memory of the adult he's become. We'll never know for sure, but that too is okay. Some things are better left that way. We're not told everything, and it feels like Gaiman could have written a book twice longer without exhaust the full history of the Hempstock women, who they really are and what they are fighting against exactly.
I'm not sure where his inspiration comes from, and I feel like he has absorbed lots of traditional tales and myths, but I was surprised to feel immediately comfortable in his world, not that I was reassured. There are a few harrowing scenes, and other rather heartbreaking. This book will stay with me for a while.