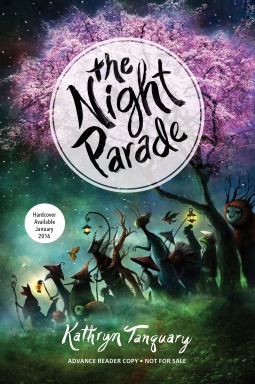 Kathryn Tanquary, The Night Parade (To be published Jan. 2016*)
Saki is a normal 13-year-old, more interested in her phone than in her environment, more interested in spending her holidays with the girlfriends clique in Tokyo than with her grandma and her family in the mountains, more interested in being cool than in respecting traditions. But at the beginning of Obon, the festival where Japanese people honor their ancestors, Saki makes a mistake: she unwittingly receives a death curse by trespassing into an old temple and she has to undo it by venturing into the spirits' world, guided by three spirits.
It's a middle-grade book, so I must keep that in mind before complaining that the plot line and character development are a tad too predictable for my taste. Saki goes from being rather obnoxious to finding her own voice to stand up against bullies and monsters. Each night she has to fight some monsters and rise up to some challenges, which was reminiscent of a video game and will certainly appeal to young readers.
My understanding is that the writer is an American living and working in Japan: while she draws a convincingly sulky teenager complete with eye rolls and little white lies, it sometimes seemed to me as if Saki was more Japanese-American than from Tokyo.
But the spirits world she encounters in the mountains is really fun and authentic. The Night Parade (Hyakki Yagyo) is a folk tale that says that each year the spirits go out into the world for a few nights and may take any human who ventures into the crowd of various demons. The book reminded me of Studio Ghibli animations, especially of Miyazaki's Spirited Away (Sen to Chihiro no Kamikakushi) and Pompoko, where the tanuki change themselves in traditional Japanese monsters.
I don't know how much middle-graders know about Japan, but this book is a very refreshing adventure into the world of traditional myths and tales from Japan, without being too heavy on back-story explanations, side notes and being smug with its exoticism. They sure will enjoy the ride and ask for more animes and mangas after turning the last page. And I did too!
*I was sent this book's ARC through Netgalley in exchange for a honest review.