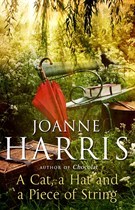 Joanne Harris, A Cat, a Hat and a Piece of String (2012)
I knew Joanne Harris by Chocolat's fame but I haven't read it. For some reasons, fantasies based on gorgeous food and picturesque French villages don't quite work for me. I prefer the firsthand expedience that I'm lucky enough to get close by. Moreover I could tell you a thing or two the downside of these exotic fantasies, but then I'd just be another grouchy French person, which is yet another living and rather truthful cliché.
I borrowed this book from the library looking for a short story collection both comforting and easy to read, and that was the labels that the name "Joanne Harris" conjured up in my mind. Little did I know that she writes stories in very very different genres, from comic to magical realism, from literary to satirical. I was quite impressed that she could stretch her skills to such extremes!
It surprised me how much I enjoyed stories about gods who are living in New York under ordinary, human disguises. I'm not really into super-heroes, so I rolled my eyes starting the story, but it quickly seduced me. Just as seductive and even sweeter are the two grannies who are stranded in a gloomy retirement home and get their revenge over the vexations they endure all day. Some stories are spooky, some are just witty and emotional. It's a rather mixed bag so I guess it's normal to like some more than others.
The collection is comforting and entertaining, but also full of surprises, never sappy or boring. I certainly won't discount Joanne Harris next time she crosses my path!