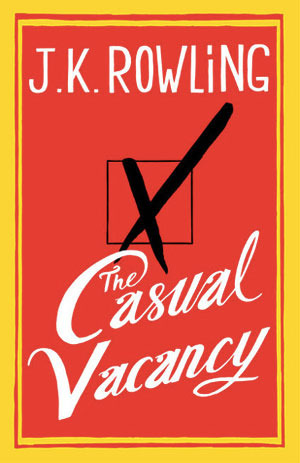 J.K. Rowling, The Casual Vacancy (2012)
Back in February Mr. S. got me the audiobook of The Casual Vacancy from the library and it took me a while to fully enter the atmosphere of the book: it wasn't before I reached the third of the 500 pages, that was cut in no less than 110 audio chapters, that I started being hooked in: I was in for the long run!
I wasn't expecting anything like Harry Potter. I knew by reputation that Rowling has now the ambition to write for grown-ups, but I can also see why the die-hard fans of Harry Potter were unsettled and disappointed: nothing could be further away from Hogwarts than the small English town of Pagford, with its typical picturesque setting, its petty intrigues, and the feeling that you can't escape anywhere. Here, no world to save, no extraordinary creatures, no bigger-than-life saga. And yet, when I come to think of it, I can see something of Harry Potter's world in this book: its mean and selfish Muggle relatives, Uncle Vernon, Aunt Petunia and the meanest boy Dudley.
How do you deal with books that are fascinating but incredibly bleak? I was in a sort of funk in the last few days, and I realized that I'd probably overindulged in The Casual Vacancy.
This book is a world in itself, a small town packed with people and rumors and back stories and tiny plots, but these people… argh, they are all so terribly depressing! If they're not petty and violent and jealous and arrogant, it might be that they are stupid, or weak, or blind. Their children, their spouse, their neighbors and siblings… They are all on edge with secrets, scandals and rancor that threaten to spill over any instant. Sometimes the characterization verges on grotesque, but most of the times, they feel very human, with flaws and moments of redeeming aspirations.
Even if you can't relate to any of them (I'm a city girl at heart and have never lived in a small town), you can't escape being sucked in, because they are all living under your gaze and you're like a semi god watching the anthill and seeing the path of one insect inescapably cross the path of another one. Rowling is so clever at creating a collective life made of tiny little seemingly random acts, a tragedy in the making. I just found the ending a bit too melodramatic, but I still enjoyed the experience: it was as if I was living in Pagford for a few months. I won't definitely be moving in for good, knowing what I know now, but how Paris' anonymous crowds seem alluring and comforting by comparison!