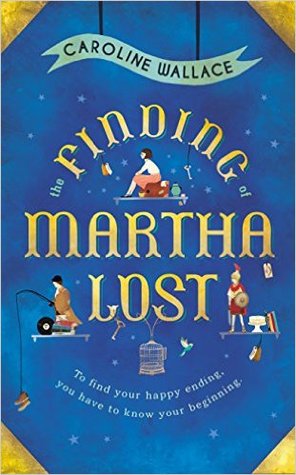 Caroline Wallace, The Finding of Martha Lost (2016)
There's suspension of disbelief. Then there's disbelief, suspended, put in a dark cellar at the bottom of the stairs, locked and the key thrown away. This book takes suspension of disbelief to that whole new level. So I guess it doesn't go well with every reader or every mood. Don't even attempt to read that book after a thriller, because it will feel flat and pointless. But if you're in the mood for something light, fun and whimsical, you can go ahead and discover Martha Lost.
Martha Lost is a 16-year-old orphan girl living in the Liverpool train station and working at the Lost property office in 1976 (the year of the big heat wave and of the passion for all things Beatles). She doesn't know who her birth parents are, but she has been brought up by a dreadful, harshly religious, bitter and abusive woman, Mother, who runs the lost property office and has forbidden Martha to ever leave the station at the risk of the station collapsing onto itself (if I catch you rolling your eyes by now, this book is *not* for you – it's only going to get weirder). She has explained that baby Martha was found in a suitcase left in the train from Paris and that nobody claimed her back. Martha has grown up shy and fanciful, not really aware of the outside world's reality, grabbing knowledge from lost books and from her friends at the station. But when Mother dies suddenly, the only way for Martha to keep her job and her home in the station is to find her birth certificate and thus discovering who she really is.
Martha reminded me a lot of Amélie Poulain from Montmartre (you know whom, right? The one with the bobbed hair, round eyes, big smile and every possible French cliché under the sun). They are both weird and sweet, naïve and likeable (not exactly relatable, I guess the author appeals to our motherly instinct) and they use a local language (the Liverpool scouse, don't worry there's a little glossary). I desperately wanted things to go well for Martha, but some people (for whom the book is *not* designed) might want to shake her and make her stop daydreaming and going into tunnels and meeting weird people. At the risk of turning these people off the book, I'm going to tell about the main ones in no particular order: a woman who runs a coffee-shop and dances the Mashed Potato, a man who has been hiding in the tunnels and sewers since WWII, a Roman soldier in full gear, an Australian con man who wants to make money out of the Beatlemania and funerary urns of various importance.
I'm really impressed that the author managed to get these seemingly random oddballs all together and to weave a tale that explains it all. Is it fun? Yes. Is it believable? I don't even think it's the point. I went along for Martha's sake, but it is sooo far-fetched that at some point it was like watching colorful puppets, I was never really afraid for them. The tale is very sweet and endearing, but to some it might taste a tad too syrupy.
Thanks to the publisher and Netgalley for giving me a copy of the book in exchange for an honest review!