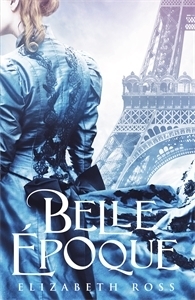 Elizabeth Ross, Belle Epoque (2013)
The end of June was full of last times for our family. Last trip to the neighborhood market, last days at this school, last time we got to Parc Monceau, last times to the library. Of course it's hard to say goodbye, especially as we were lucky to have such a good library network in Paris.
The neighborhood library I went was specialized in children and YA books (with only a small shelf for parents to get their bookish fix), so it led me to extend my interest towards the YA novels. I was looking for a sweeping period novel that would take my mind off the busy to-do list. I don't mind foreign books set in Paris as long as research is good and characters are believable. All the more when it's a historical novel. I love to remind myself that so many people lived in Paris in different centuries.
Belle Epoque is a novel that was inspired by a little-known Zola (very) short story. Zola imagined that wealthy upper-class families hired ugly companions for their daughters to appear even more beautiful and striking by comparison, in an effort to help them shine in society during the season. Ross used this basis to explore the fate of Maude Pichon, a 16-year-old runaway from the countryside and poor single girl in the capital, hired by such an agency because she is plain enough; and the fate of Isabelle, a wealthy débutante whose mother has chosen Maude to accompany her everywhere, both as a "faire-valoir" and as a spy, because Isabelle is not interested in marriage and would prefer studying at university and having her say in this new century. The backdrop of the story is the 1900 Universal exhibition in Paris, that saw the building of the Eiffel tower that so many back then found ugly. I didn't care so much for Maude's back story in Brittany and for her love interest that seemed a bit fake, but the portray of friendship and the conflicts of loyalty sounded quite right.
The concept of "repoussoir", or "beauty foil" is such an unusual idea, although the underlying themes of inner vs. outer beauty, of the pressures of conventions on beauty, are rather common in YA. The ending tied too many bows for my taste (which made it implausible) but I guess this is part of YA conventions. I really liked that the book made Maude not exactly likeable, but oh-so-relatable, when she felt so much self-loathing about her own appearance and yet compared herself to other repoussoirs, hoping that she would look less ugly than them.
I was pleasantly surprised by the depth of the themes, because the cover art had led me to expect soapy romance. Yes, I get that the girl beside the Eiffel tower has no face, but this cover art is on par with so many historical romance novels covers, isn't it?