Don't think that I'm doing a catch-all post to quickly get rid of reviews that are long overdue… On the contrary, writing a post for each book would be easier for me, while trying to link books together is a bit of a challenge, to be honest. But that's in that spirit that I read them, so here is my experience of parallel reading.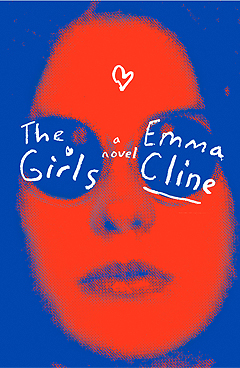 To start, even though it's harder for me to report, the reading experience is so, so fun! I love when books talk to each other. Over the last 3 months I read 3 books that clearly had a lot of common ground: "America", by Joan Didion, is a French collection of 11 essays taken from several of her best-known collections: "The White Album" (1979), "Slouching towards Bethlehem" (1968) and "After Henry" (1992). The second book was Emma Cline's "The Girls", an oblique retelling of the Manson murders, but also a coming of age story of a 14-year-old angsty girl in 1969 California. The third book, "Mercy, Mary, Patty" by Lola Lafon is a French take on the Patty Hearst kidnapping, told obliquely by a French young woman in the present day and a young girl with her American teacher at the time of the trial.
The first obvious parallel is the end of 1960s and 1970s, when the summer of love has turned sour, when drugs and violence have taken the high ground over idealism and peace and love. I haven't witnessed it first hand, but I was born at the end of the 1970s when the mood was dark and hopeless and I have never fully understood what was in the air to shift so much from the hopeful days of the 1960s.
The second obvious parallel is young women and girls, as main characters written by female authors. None of these female voices in the three books are exactly likeable. They're angsty, a bit whiny, both entitled and so unsure of themselves. Violaine in "Mercy Mary Patty" is the pet student of an American exchange teacher in high-school, she's been chosen to help the teacher with the Hearst material to prepare for trial. She's highly persuadable and in awe of these exotic characters (both Patty Hearst and the teacher), highly out-of-place in small town 1970s France. Evie Boyd in "The Girls" is lonely and lost, also in awe of Suzanne, the wild, dark ("feral") young woman in an exotic cult that rejects everything Evie was taught in her upper class, ordinary family. Joan Didion does not quite use the same voice but she doesn't hide how lost she felt. Although older at the time, a professional journalist whose mission is to observe the people she meets, I can't help but think that she was strangely fascinated by these weird people in Height Ashbury (and perhaps in Manson's ranch too, as we see her buying a dress for cult member turned trial witness Linda Casabian). And she was very close to a nervous breakdown.
There's no doubt in my mind that Emma Cline read Joan Didion (required research reading, isn't it?), and the result is that in my mind, Evie could very well have crossed paths with Joan in one of these dingy, decaying places where people did drugs all the time, or that Joan could have been invited to a polite party organized in California by Evie's parents. Violaine, on the other side of the Atlantic, could very well have befriended Evie. She could have been fascinated by Manson or another guru if gurus were roaming the French countryside at that time (not that I know of… California is a far cry from the French Atlantic coastlines). Violaine is taken by the radical protest that her teacher introduces her to, she sees an authentic, pure idealistic woman in Patty Hearst, a young girl like herself who has gone beyond the lies of the civilized society and stifling, conventional parents. Violaine has a massive girl crush in Patty, similar to Evie who has massive girl crush on Suzanne, but doesn't seem to be as fascinated by Manson. What adults see is that Violaine and Evie are taken into a cult, but what we see from the inside is the adolescent fascination for something different, whatever the discourse (political or spiritual) it takes. Joan Didion, as an adult (she is 35 in 1969, after all), looks at those drifting adolescents and younger with dismay, the same way Evie's parents and her father's girlfriend look at her.
The last parallel I'll draw between the 3 books is the way the writer has addressed her stories and her characters. In the 2 novels, the writer has chosen an oblique approach, with the narrator speaking from the wisdom of her later years, a narrator is contemporary to the reader. Evie has not joined the cult herself but kind of drifts on the periphery (which saves her when things turn dark). Her life afterwards is basically a huge failure. Violaine has not joined any protest group and she has nothing to link her to Patty Hearst herself. Her life afterwards is basically… well, nothing much either. The oblique approach of "Mary, Mercy, Patty" and "The Girls" is what caused my reservations about both books. I didn't care so much about the present timeline plot, I wanted to be with the girls and experience things firsthand. And I found that it was a bit too easy to make Violaine's et Evie's adult lives dull and empty.
Of course, Joan Didion didn't choose such an oblique way for her essays, but she still starts the White album with this very famous sentence that looks back to the end of the 1960s from the end of the 1970s, in a failed attempt to make sense out of it.  In some ways, even after three books, the era will keep its mystery.