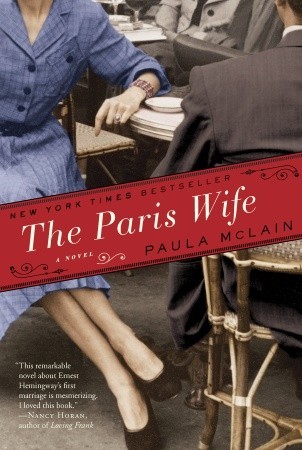 Sometimes I need a little nudge to take decisions… like DNF a book, for instance. I still have a few misgivings about abandoning a book. I sometimes wait ridiculously long before I decide to turn my back on a story (because I know how difficult it is to write a book, I suppose). I always fear that I'm missing out on something and that the book will redeem itself in the next chapter, or the next… I prefer skim-reading the rest just to make sure.
But there's nothing like a fresh batch of new books to help me get rid of these scruples. Yes, that book might be good in the end, but it doesn't hold the appeal and so… I am allowed to be fickle, aren't I? The book that made me hesitate a lot is Paula McLain's The Paris Wife, of which I had heard a lot of good things. Yes, yes, I know, you probably loved the book… But I started it and I didn't connect with the main character, Hadley, who marries Ernest Hemingway and moves to Paris with him, until… well, it's no spoiler to say that their marriage ends badly.
I don't know if I knew too much about Hemingway, or too little (I'm not a great fan), and I don't know if McLain has done extensive research or how fictional Hadley's portrait really is, but… I did sigh a lot at Hadley's passivity and I just couldn't see myself spending 250 more pages with her (I stopped at 20%). Hemingway is not my kind of guy, I just felt sorry for Hadley, but it's not enough to sustain a passionate interest on my side.
So what am I going to read instead? I splurged for 3 books on Amazon, which is a rare treat these days (I have so many books at the library and at home, TBH) and I'm really looking forward to crack their spines open as soon as possible:
Kindred, by Octavia Butler: I really don't know how I heard about this book, but since then the name Octavia Butler is popping up left and right calling for my attention.
Educated: A Memoir by Tara Westover: I heard a lot of good reviews, but the tipping point for me was the excerpt I got through Season of Stories, that convinced me that I needed to get my hands on it.
Everyone Brave is Forgiven by Chris Cleave: I've been meaning to buy this one for my workplace library since the beginning of this year, but it wasn't listed, so… what can I say, I got it for myself!
Have you read any of them? Which one would you start with?