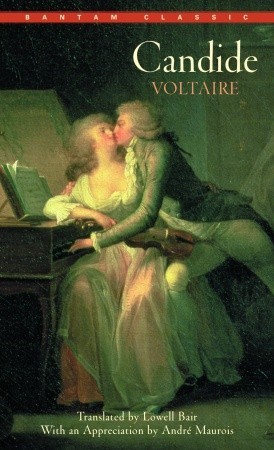 Voltaire, Candide (1759)
I wish I knew how teachers should teach classics so that teenagers are not definitely turned off by them for life.
I mean, how often does that happen that a perfectly good book gets ruined because you've read it at too early an age, where the average response to great literature is to roll your eyes, say "whatever" and wait for the bell announcing the break? Or because you had to dissect half a paragraph for hours and you got a bad grade?
I'm afraid there's so magic formula, but I wish there were. Because you would then avoid the embarrassment as an adult of trying one of those classics again, just on a whim or because you have the faint feeling that you missed out on something, and then, bam, you "discover" a really great book. And you wish you hadn't lost all these years.
That's the literary equivalent of your mother's "I told you so", except that your literary class teacher had a moustache and handed out bad grades by the dozen (French education isn't really about giving encouragement).
Anyway, back to Candide. I won't go into details of the plot (sorry, won't help anyone copy-paste their book report), but let me tell you I had no idea it was so explicit and blunt. I thought Voltaire was prim and proper, if not exactly wholesome and bland. I thought its irony was in the polite form of 18th century royal court flourished language (just like this cover: they kiss, wink wink, but they're not in an X-rated movie). Anyway I was wrong. I still wonder how the teacher managed to find a paragraph to dissect that wouldn't be explicit. Voltaire's Candide is not politically correct at all.
I wondered if it did translate well into English and if American readers weren't offended by all this. This touches slightly to the current debate about whether Charlie cartoons are offensive, to which the American answer seems to be a resounding "yes", while the French answer ranges from "no" to "maybe, but get over it ah ah". But I'm digressing.
Is Voltaire offensive? Well, it's a satire, not subtle wit or irony, so you shouldn't expect anything but a caricature. Is it modern and readable? Absolutely. The best proof is what sparked my renewed interest in that novella: Leonard Bernstein's operetta Candide, whose famous aria by Cunegonde "Glitter and Be Gay" is a favorite in our home.
I recently watched the opera in DVD and wanted to compare with the original text, believing that Bernstein had modernized the story. But the version I watched is true to the text and quite fun. And the American audience doesn't seem offended.