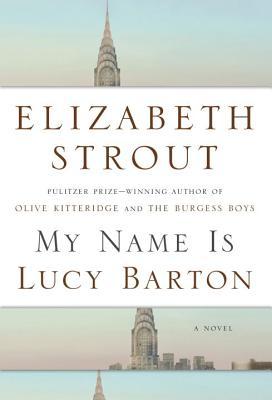 Elizabeth Strout, My Name is Lucy Barton (2016)
I'd loved Olive Kitteridge, and I knew that it was only a matter of time before I'd read Elizabeth Strout again with her celebrated Lucy Barton, that so many book bloggers had recommended. The good news is that the opportunity came earlier than I'd thought with an ARC of the French version that will be published in the fall.
I fell into this book quicker than with Olive K., and I read this short novel in almost two evenings, a real holiday treat to have these longer uninterrupted stretches of reading! (It definitely helps that I don't really "get" German TV). These were beautiful hours spent with Lucy Barton and her mother in the hospital, talking about little nothings,  about neighbors and extended family members. Nothing much happens, but what matters is the undercurrent of love and emotions. Lucy and her mother were estranged and the fact that she flew to New York to stay on her daughter's bedside for 5 days and nights meant a lot.
I loved every page of this melancholy, understated novel. There's no big bang, no showy revelation of a secret, but rather the complex texture of life and time and deep feelings. Although Lucy is a writer and words are important to her, she struggles with emotions that she can't pinpoint exactly or things that can't be expressed fully. The writing flows but is never flowery. The structure goes back and forth between the 1980s, Lucy's childhood in dire poverty and her later life many years after the episode in the hospital. It's sad but not gloomy or overwhelming; it only makes you think about your own family and relationships, about understanding people (or not), and how childhood has probably a lot more influence on your choices later in life than you'd think. It's the perfect book to savour on a rainy day together with a hot tea (or maybe, in German fashion, a long coffee and a generous slice of cake).
Thanks to Netgalley and the French publisher Fayard for the ARC in exchange for an honest review.