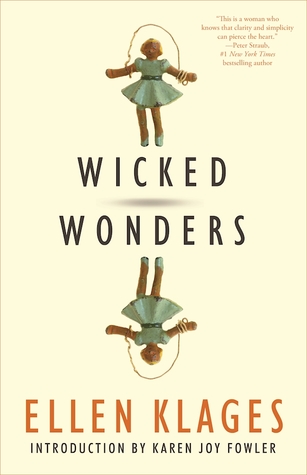 Ellen Klages, Wicked Wonders (2017)
I was steered towards Ellen Klages by Kazen from Always Doing, who was recenlty raving about her Passing Strange, calling it "guaranteed to be one of my top books of the year, if not number one". Serendipitously a collection of short stories by Ellen Klages was available on Netgalley, so I ran to get it. Which practically kills two birds in one stone, because I decided to read more short stories this year.
How does one speak about a short story collection? Of course, some stories will be great and others less so. As they are set in different genres, it's harder to find a unifying theme without appearing vague and pointless. I will just venture to say that Klages' main characters are often young girls and that she has a very authentic voice that adds to the charm of the story. There are often a big sense of humor in these stories, and mostly a happy ending, which makes for entertaining, light read. There are ventures into genres that I do not read usually, like fantasy or farce or SF, but most keep us readers grounded with realist details.
One of the stories I liked best is "Amicae Aeternum", about a girl who is moving away and takes her leave from her best friend and from her little suburb. It was quietly moving, to the point of tears. Leaving your home town, especially as a kid when it's not your own decision, had a particular resonance in this story.
One other story is "The Education of a Witch", whose main character is a preschooler right in the princess stage, but who obsesses about Disney Maleficent instead. Having a 3-1/2-year-old at home, I know first-hand what a preschooler's voice and mind look like and sound like, and I can vouch for Klages' authenticity, especially as some things from the adult life seem unexplainable and that magical reasons are about as probable as others at this stage of life.
One other is "Goodnight Moons", where a female astronaut, after a very tough selection, leaves the earth in an expedition to Mars, only to find herself pregnant, a hypothesis that the people around her, both the crew and the monitoring people on the ground, didn't expect but now intend to fully take into account. It started as a "what if" of the silly kind, only to take a sudden turn towards something deeper and more subtle.
I also very much enjoyed "Woodsmoke", the (longer) story of a summer spent at the summer girls camp in the 1960s and the special friendship between two tweens that was born out of it. Summer camps are quite an American traditions, although French kids have their own variation. I went to music camp and I remember how long and short, very intense and special these times were.
Some other stories felt a bit contrived and gimmicky, or perhaps it was just me who wasn't in the mood on that given day. But the collection overall reminded me what the power of a good story is: to entertain, to put you in someone else's shoes and to let your imagination run loose for a little while.
Thanks to the publisher Tachyon and Netgalley for a free copy in exchange for an honest review