Lincoln in the Bardo by George Saunders, which is the start of the February meme launched by Kate from Booksaremyfavouriteandbest, came only recently into my radar, and I haven't read anything by George Saunders. I confess my utmost ignorance of American presidents before 1945 (I always get them all mixed up), and the Bardo didn't evoke anything except a Tunisian museum, and I am pretty sure I haven't read any books by Tunisian authors, so the first thing that sprang to my mind was…
The Lincoln Lawyer, by Michael Connelly, that introduced cunning defense attorney Mickey Haller. It's definitely not as highbrow as any Saunders book, as this one is deemed "compulsively readable legal thriller". I'm pretty sure it's a world away from Lincoln in the Bardo. But as I didn't know at that time that Lincoln was actually a car make, I confess that I was puzzled for a long time why Connelly was referencing to an American president, all the more as nothing in the plot referred to anything presidential. Anyway, I am addicted to Michael Connelly's thrillers and police procedurals, so it's only fair game that I jump to…
Harry Bosch's first mystery The Black Echo, which I read probably 20 years ago. I don't think I read them in order, but this one stuck in my memory because of the anxiety-inducing scenes in the sewer tunnels. I now know that Connelly likes to anchor his plot in L.A. geography, but to me it was totally abstract and the stuff of nightmares. In this thriller Bosch has flash-backs from his stint in Vietnam, and it made me think of…
Ru, by Kim Thuy, one of the few Vietnamese writers I have read (and technically, she is Canadian, so I should be ashamed…) The Vietnam war is always lurking in the background of this book, but strangely enough I have read more about the Cambodian conflict and the terrible Khmer Rouges regime, which I first heard about when I read…
The Killing Fields, by Christopher Hudson, a book that was on my grandmother's bookshelves. My grandmother didn't read much, and I bet this was the movie tie-in, but as a teenager the book was probably traumatizing, all the more as it was clear that those events were real. I had no difficulty recognizing the cover of the French book edition, which is the one I read 25 years ago.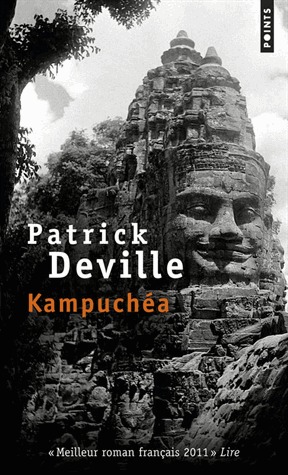 I found the difficult questions of the origins of Khmer Rouge totalitarian madness addressed in Patrick Deville's Kampuchea once again, where the long and complex history of this small country is painted without shying away from explaining French role and influence.
It was a surprising echo to be found in the latest Nicholas Le Floch historical mystery, set in Paris in 1787 (less than 2 years before the Revolution!): Prince de Cochinchine, by Jean-François Parot (I'm currently finishing the book so a post should come soon!). Cochinchine is the old word for South Vietnam. I knew that France has conquered Indochina during the 19C, but little did I know that French people (especially religious authorities) were already trying to weave their influence at the court of these Asian princes.
Well, I told you I didn't know the first thing about Lincoln, so don't be surprised that my 6 steps took me far, far away from him!